BECKHOFF FC90xx: Configuration
Configuration via TwinCAT System Manager
In the left-hand window of the TwinCAT system manager, click on the Ethernet channel you wish to configure (in the example: device 2 (RT Ethernet)).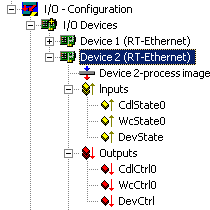 In the right-window of the TwinCAT system manager, various tabs, i.e.
- General
- Adapter
- EtherCAT
- Statistics
- Diagnostics
are now available for configuring this Ethernet channel.
Note
The system manager numbers the Ethernet channels (device 1, device 2 ...) in the order in which it recognizes them as ready for real-time Ethernet. This numbering does not have to correspond to the numbering of the LAN connections in the network connections of the Windows Control Panel or the numbering of the RJ45 sockets on the FC900x (X1, X2 ...).

The channels of an FC9002/FC9004 can be identified via their unique MAC addresses.